What is Sawan Month?
Sawan is the holy month dedicated to Lord Shiva, and it is celebrated with full enthusiasm across India. This month also marks the onset of the monsoon.
More About Sawan
Every Monday of Sawan, people observe Sawan Ka Somwar, a fast. Somwar, or Monday, derives from the Sanskrit word 'Soma,' which means Chandra, the Hindu deity of the Moon. In Hinduism, Lord Shiva is depicted with a crescent moon on top of his hair and is also known as 'Someshwara', meaning god of Moon. Sawan, on the other hand, refers to the monsoon season
People observe fast during these days, to seek blessing from Lord Shiva and Goddess Parvati, for a blissful life.
Thousands of orange-clad devotees walk to Hardiwar, Gangotri, and Rishikesh, carrying earthen pots on their shoulders. Kanwars are said to be unable to keep the earthen pots on the ground until they have filled them with Ganga's holy water. They then return the water and offer it to Shivlings.
This month is also called Shravana, because It is believed that the Shravana Nakshatra or star rules the skies on Poornima or a full moon day, or at any other time during this month, and thus this month gets its name from this nakshatras
During this month, each Monday is celebrated as Sawan Somvaar across all the temples with Dharanatra ( It is like a vessel as shown in the image) hanging over the shivling, bathing it with holy water and milk, throughout the day. Devotees offer Bael Patra, flowers, holy water, and milk i.e Falam-Toyam, Puspham-Patram to Lord Shiva.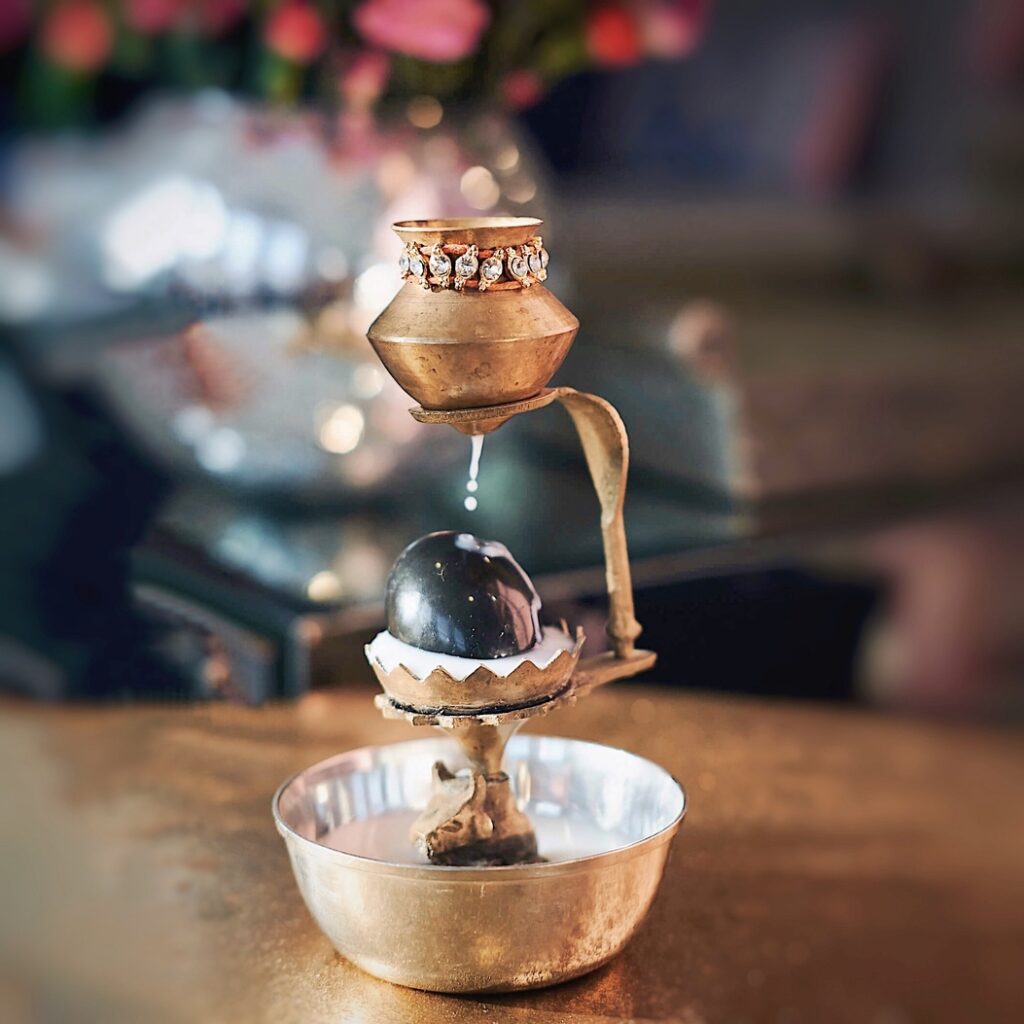 What are the rituals to follow during Sawan Somwaar?
Devotees fast on Sawan Somwaar, a fast in which they from eating salt. They also listen to Katha ( Mythological spiritual stories told by priests ).
Women who are unmarried famously fast during this month, so they get the ideal husband in their life
When is Sawan Somwaar in 2022?
Sawan this year is celebrated from 14 July to 12 August, 2022